Sizes available to suit any rooms:
65", 75", 86" - 4K Wireless Presentation Display
43", 55" - Commercial Display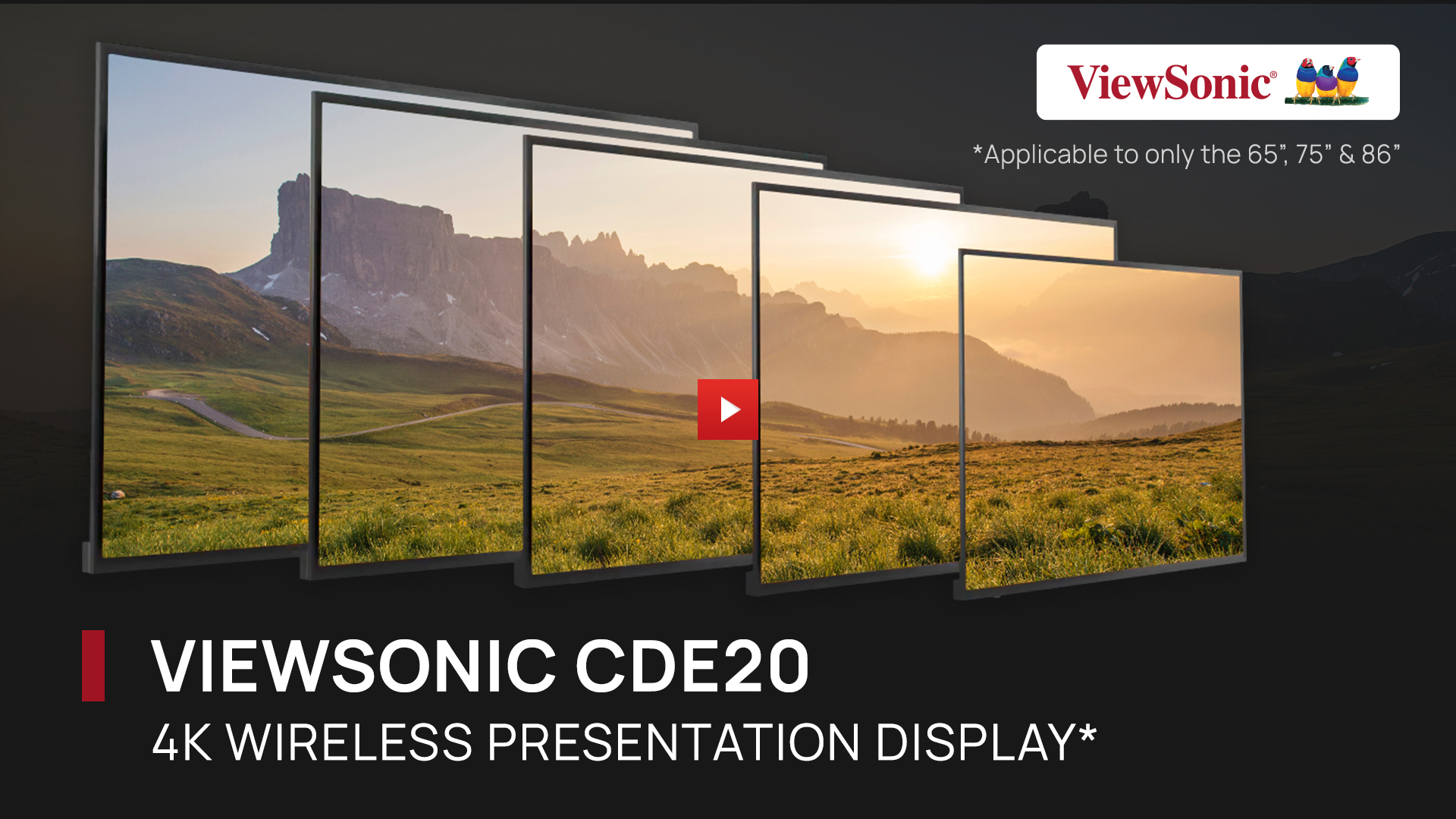 NO MESSY WIRES

Equipped with built-in features for wireless connectivity, screen sharing, and an integrated multimedia display.

4K ULTRA HD RESOLUTION

With four-times the resolution of Full HD, this Ultra HD 3840x2160 display delivers a breathtaking viewing experience with immersive images that are vibrant, clear, and as large as life.

Powerful embedded SoC (System on Chip) infrastructure with true 4K UHD media playback and an integrated internet browser.

Other stunning features include:

Quad-core processor, internal memory, connectivity ports, high brightness, wide viewing angles, dual speakers, stylish slim bezel design

FUSS FREE SETUP, CONTENT SHARING FEATURES

It's easy to set up for meetings and presentations. Content-sharing is easy and intuitive, removing many of the common barriers to effective collaboration.

Multiple users, whether on-site or on-line, is able to participate in conferences and share content with each other simultaneously.

CDE 4K wireless presentation display models have built-in screen sharing software*, ViewBoard® Cast and myViewBoard Display.

*Chrome, Android, Windows, Mac OS, and iOS compliant

*Miracast, Chromecast, and AirPlay support

ViewBoard® Cast

Enables content to be streamed from mobile devices onto the display over wireless or cable networks. Multiple users can simultaneously annotate content (such as documents, cloud files, multimedia, etc) on their devices in real time, and then stream and share that content onto the CDE display. One-to-one, One-to-many and 4-in-1 Multi-screen options capable.

All Content on One Screen Across Multiple Devices

From side-by-side to multiple screens overview, the display enables all mobile users to share their full HD content.

Single Content to All Displays

Across an entire fleet or from remote site-to-site, participants can mirror content to multiple displays for multi-group environments.

EASY DEVICE MAINTENANCE AND MANAGEMENT. IT CAN BE DONE REMOTELY!

Intranet/Internet-Based Settings & Content Management vController, SureMDM, Revel Digital. Remotely control or manage a fleet of ViewSonic Wireless Presentation Display's from the cloud using ViewSonic software solutions or via RS232/LAN.

VIEWSONIC WORKPLACE

Supports wireless cloud service access and PC control. Works with cloud-based apps for Android® such as Zoom RoomTM, Microsoft Teams®, and Microsoft 365® and other compatible productivity apps

ADDITIONAL FEATURES

Include:

Embedded Internet Browser

Utilise online resources with included browser, allowing participants to browse on the web without pairing a device.
APPLICATIONS
| | | |
| --- | --- | --- |
| | | |
| Offices | Education | Hospitality |
| | |
| --- | --- |
| | |
| Retail | Large Workshops |