Melbourne, Victoria - 1st July 2022: Alloys today announced a new partnership with LG Electronics that continues Alloys significant growth in AV and aligns with the organisation's growth ambitions in the AV category in 2022.

This new partnership allows Alloys to distribute Information Display products including Commercial TVs, and Interactive Flat Panels, along with Digital Signage which is a new category for the distributor. Alloys is now able to provide a more diverse AV range with a leading Tier 1 brand that compliments the existing portfolio and allows for new solutions to be provided.

'Distribution made for you' is Alloys' long-standing commitment to customers, and with LG now being distributed by Alloys, it strengthens the portfolio allowing customers to take advantage of that promise.

"The new partnership with LG demonstrates our commitment and growth in the AV space. Our specialist methodology and their market leading technology are a good fit for both organisations", says Paul Harman, CEO at Alloys. "We are thrilled to have the opportunity to work with the LG team and provide them with the additional market presence that can help increase their growth further."

"We are delighted to welcome Alloys to the Australian LG Information Display distribution network. They have a proven track record for value-add distribution, team work, and demonstrate a winning spirit, all values which align perfectly with LG's core business principles", says Noe Efira, Distribution Manager - Information Displays at LG. "We look forward to working closely alongside Alloys and help deliver the best possible customer experience for Information Displays in Australia."

The benefits of this new partnership include.
The inclusion of Digital Signage solutions into the AV stack at Alloys

Greater diversity within the portfolio with an additional Tier 1 supplier

Expedited freight and demo facilities with fully serviced branches in VIC, NSW, QLD and SA
Alloys has installed LG's Video Wall solutions within their Melbourne & Sydney showrooms which was unveiled earlier today, and will also include LG's One:Quick Video Conferencing solution which is ideal for the hybrid working environments of today.

LG products are available to purchase from today at Alloys, with stock arriving in each branch of the past week in preparation for today's announcement. Resellers interesting in purchasing should contact Alloys at 1300 368 348 or visit the website at alloys.com.au.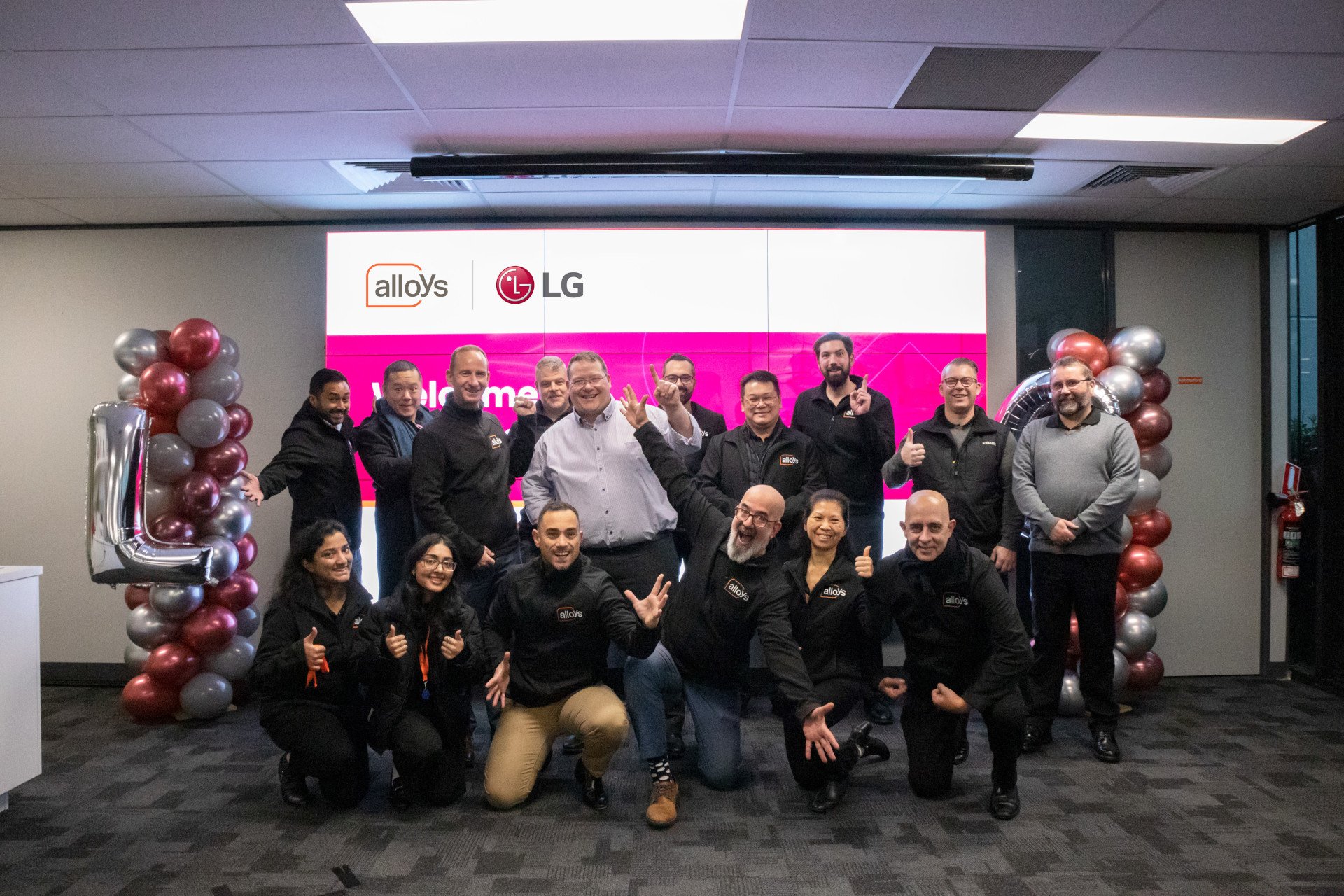 About Alloys: Alloys is celebrating 40 Years as a value-added distributor in 2022. With four showrooms across Australia, Alloys improves the capabilities, profitability and opportunities of SME technology resellers by providing them with a range of nontraditional services. This approach requires the Alloys team to be more knowledgeable and more flexible and to build stronger relationships with their customers, their suppliers and the product solutions they sell. In AV, Alloys distributes: Sony, BenQ, Panasonic, Epson, Screenbeam, Vogel's, North Bayou, Elitescreens. Alloys also distributes HP, Canon, Fujifilm, Lexmark, Fujitsu, Kyocera, Formlabs, Makerbot, 2N and many more.

About LG: LG Electronics is a global innovator in technology and consumer electronics with a presence in almost every country and an international workforce of more than 75,000. LG's four companies – Home Appliance & Air Solution, Home Entertainment, Vehicle component Solutions and Business Solutions – combined for global sales of over USD 56 billion in 2020. LG is a leading manufacturer of consumer and commercial products ranging from TVs, home appliances, air solutions, monitors, service robots, automotive components and its premium LG SIGNATURE and intelligent LG ThinQ brands are familiar names world over.


Media Contacts:
Simon Feigl
Marketing, Brand & Communications Manager at Alloys
+61 450 435 450
simonf@alloys.com.au

Paul Harman
CEO at Alloys
+61 430 181 870
paulh@alloys.com.au