Sony New BZ Product Range launched and available at Alloys
These slim, energy saving 4K professional displays add polish to your visual communications in conference rooms, meeting spaces and public areas.
They're made for a wide range of applications with smart apps, easy content
sharing and reliable 24/7 operation.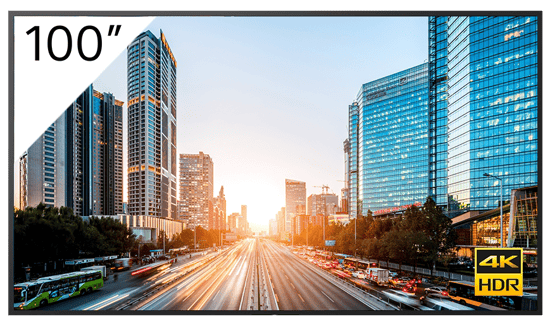 The 100" BRAVIA FW-100BZ40J combines bright, beautiful 4K pictures with business-friendly features. The robust and rigid FW-100BZ40J is designed with a wide range of B2B applications in mind, thanks to a symmetrical four-sided aluminium bezel and a carrying handle providing ease of mobility.

One of the widest 4K line ups in the market with sizes from 32" to 100"


Designed for flexible installation




Install in portrait or landscape while mounted on the ceiling, supporting special installation for B2B use applications.

Optimised for professional use


Includes built-in apps and solutions including screen mirroring, digital signage and automation all powered by Android 10.

Backed by 3 year warranty
Have the peace of mind in knowing that your product is covered by 3 year standard commercial warranty.

BRAVIA for everyone
From business to education, retail and more. There are plenty of good reasons to pick the BZ series for a wide range of applications where you need brilliant picture quality, easy operation and flexible control options.
BRAVIA for Business
Professional displays for corporate presentations, collaboration, signage, video conferencing and more.
BRAVIA for Education
The educated choice for richer teaching and learning in classrooms, colleges and universities
BRAVIA for Retail
Grab shoppers' attention with colourful signage, news and special offers in stores and shopping malls.